How to Explain a Pet's Death to Children
By Elaine Waldorf Gewirtz
Oct. 27, 2021
After reviewing the laboratory results and examining Bella for the last time, the veterinarian met with the dog's owners and delivered news the Millers weren't expecting. Their Golden Retriever's liver cancer had progressed and would not improve. The 12-year-old dog would not survive more than a few days.
Devastated by the thought of losing their dog, Sara and Ryan Miller knew another painful task loomed ahead. Beckett, their five-year-old son, would need to know that Bella—the buddy he had grown up with, would soon leave the family.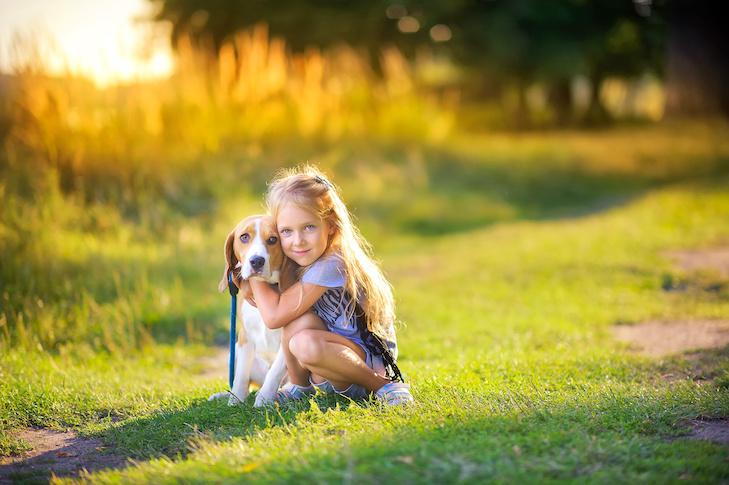 How to Say Goodbye
Making the difficult decision to euthanize a treasured canine companion is agonizing enough but finding the right words to explain a dog's death to a child proves heart-wrenching.
For many children, the first experience with the death of a loved one comes from losing a dog.
Helping kids comprehend and cope with their dogs' final days shapes how they will process fatalities later in life.
"Children, specifically young children, do not understand death the way we do," says Pamela Regan, Ph.D., a relationship scientist and research psychologist at California State University, Los Angeles. "Depending upon their age and maturity level, it may take weeks or months for them to accept that their dog is never coming back."
Here are some ways to deal with this sensitive subject.
Have the Talk
When you learn about your dog's fatal condition, it's hard to fathom. Set aside uninterrupted time to explain it to your child in age-appropriate language.
"Don't be afraid to have the conversation," says Regan. "We think children don't understand, as they may repeat the same questions over and over, but they're only trying to process the information. They're grappling with a new concept, so patience goes a long way."
Give reasons why dogs die—accidents, illness, and old age. If the dog is still alive, share information about the dog's condition and that a full recovery may not happen.
"Kids may ask questions you don't have the answers to," says Regan, "and that's OK."
Honesty is the Best Policy
According to Regan, when explaining the dog's condition to a child, use factual words, like death and dying. Avoid trying to soften the event by using euphemisms.
"Saying the dog went to sleep could be terrifying to a three-year-old, especially when it comes time for a nap," says Regan. "Sugarcoating death with the dog moving to a magical place or living on a farm may sound easier but may cause misunderstanding later. Make it clear to your child that death means the dog will not return."
For older children who want more information, tell them what you know in a way they can understand. Chances are they've heard references to death and dying and may have misconceptions. Correct any falsehoods and focus on comforting children.
Depending on the age and developmental level, every child deals with the news in its way.
Children under six years old will not understand the finality of death. To grasp this meaning, kids will play-act their dog's demise or pretend it is still alive.
"Beckett grappled with the concept and told strangers that Bella had died," remembers Sara Miller.
Regan says that telling anyone who will listen that the family dog died is one way that kids process the concept, Regan says. "They like to share new language, and he's seeking confirmation that death is a real event."
Avoid the Blame Game
Excusing the dog's absence by saying the dog ran away after someone left the fate open leads to confusion. The child will want to search for the dog and will continually look for it.
Don't blame the veterinarian. The child can feel discouraged and resist taking another dog to a veterinarian or from personally seeing a pediatrician when ill.
When Deb Eldredge, DVM, a New-York based veterinarian, meets with parents and children to discuss their dog's imminent death, she explains that the dog is no longer comfortable or happy.
"I tell kids that I will be helping their dog so that it is no longer in pain," says Dr. Eldredge. "I stay away from mentioning the afterlife because people have so many views."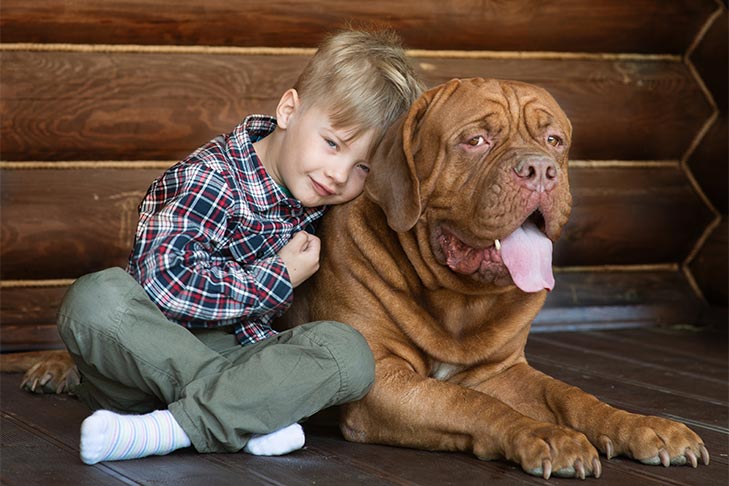 Support & Grieving Strategies
For support, parents can read books to their preschool and primary school-age children about what happens when dogs pass on. Prose and illustrations work wonders to open a dialogue about the beloved family dog that has passed away.
Older children may or may not want to know about euthanasia.
If they are curious about what happens at the time of death, Dr. Eldredge believes in telling the truth. She reveals the dog may take a big breath as the spirit leaves the body and may pee or poop.
"It's important that children know that their dog doesn't suffer when this happens," says Dr. Eldredge. "Hopefully, this fact will comfort them."
When Jody and Scott Berger learned that Tucker, their black Labrador Retriever, would not survive copper storage disease, they shared the information with their teenage sons. The couple relayed how much Tucker's condition had deteriorated and wouldn't improve.
"It helps to explain that euthanasia is compassion for the dog, not for the owner," says Dr. Eldredge. "It's a kind way to end a dog's life and avoid more suffering."
When the time came to euthanize Tucker, the couple hired a veterinarian to go to their Foothill Ranch, California home. When the doctor arrived, Tucker wobbled over to greet her with a sniff and a wagging tail. Minutes later, he meandered to his favorite spot in the yard and settled on his pillow.
"We relayed the details of the procedure—the sedative and the final injection that would stop the heart from beating," says Jody Berger. "We gave the boys the choice to watch or not."
Sixteen-year-old Jordan and 12-year-old Ethan gave Tucker the last belly rub and chose to watch from the window. Jordan cried while Ethan said he was sad but couldn't cry.
"Let children know it's OK to express grief in whatever way that feels right to them—crying, apathy, or numbness," says Regan. "There's no set time limit, and it's normal if a child brings up a dog's death weeks or months later."
A memorial ritual can be helpful to recap the dog's membership in the family. Young children can draw pictures of the dog, decorate a marker for the dog's internment, or choose a favorite toy or collar to frame.
Giving children a task to express their grief will help them cope.